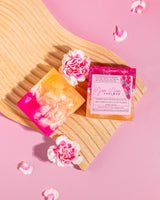 Yum Yum Yoni Bar
There is a reason why we've sold over 30,000 of these bars.
This antibacterial feminine cleansing bar was formulated to focus on the natural flow and stimulation of your 💦 during your intimate experience. But also gentle and effective enough to use on your entire body.

OMG, ADD TO CART
Glow Beauty Serum
Your first impression should be the best. Your skincare routine should be on point with quality products.
Our beauty serum is infused with 4 organic botanicals and 15 head turning oils. We've also added new ingredients that will fade discoloration. You definitely want to add this to the cart.
Glow Serum Me, NOW!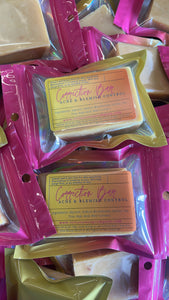 Complexion Correction Bar
Having a hard time getting rid of dark spots, acne, hyperpigmentation, dark armpits or inner thighs?
This kojic acid and turmeric bar is packed with ingredients to help you achieve flawless skin within 3-5 days. YES! You read that correctly.
I need one!
I love this soap, the smell isn't overbearing like other yoni bars I've tried in the past from different companies.

Jessica R.
Soap smells good and natural. I love the thank you card with the encouraging message. You can tell it was made with love.

Princess H.
The best yoni oil I've ever used. It's the PERFECT formula!! I use it after shaving and just a daily moisturizer. Last throughtout the day.

Aja