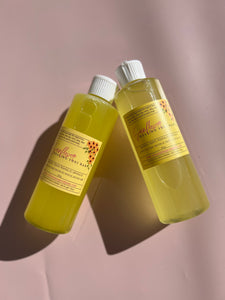 This is our sensitive skin yoni wash 
Carefully created for vaginal health. No strong scents or cute designs. Strictly for elimination of bacteria, yeast infection symptoms, itching, burning, & skin irritation.
Sunflower Yoni will help balance your pH level, it's microbacterial and antifungal properties makes this your new favorite everyday yoni wash.
All bodies are different so test a portion of your skin always before using any new products .
Ingrediants: Glycerin, Rosemary oil, calendula oil, vitamin e oil, basil oil, peppermint oil, tea tree oil, neroli oil, and skin safe mica.