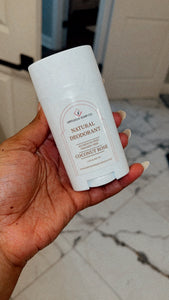 Coconut Rose Natural Deodorant safe for daily use on men, women, and preteens.
Offers long lasting, odor blocking protection.
Goes on smooth without thick white residue.
Aluminum free
Paraben free
Deodorant may be used in other sweaty areas. (breast, stomach folds, thighs, and etc.)
**DETOX ARMPITS** You can easily detox your armpits by getting a lime or lime juice from your local grocery store. Cut the lime in half and rub it underneath your armpits at bedtime for 5 nights. During the detox process, you can only use natural deodorant or no deodorant at all. So, during the day, you can use natural deodorant and at night, use the lime.
Do this for 5 nights to prevent you from getting a sweaty/musty odor.
Ingredients: Caprylic/Capric Triglyceride, Tapioca Starch, ozokerite, Sodium Bicarbonate, Magnesium Hydroxide, Coconut Oil, Cyclodextrin, Shea Butter, Fragrance, Dextrose, Lactobacillus Acidophilus, Eucalyptus Leaf Oil
If irritation occurs, discontinue immediately.