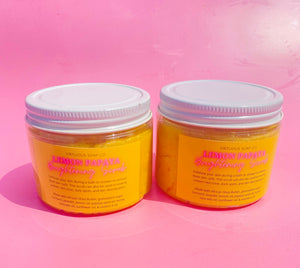 This scrub can be used on the face, body, and yoni.
Use to help with and/or prevent ingrown hairs after a Brazilian wax.
Use to reverse vaginal or underarm discoloration due to shaving.
Use 2 or 3 times a week on face to combat dark spots due to acne.
Made with Turmeric, Granulated Sugar, Shea Butter, Mango Butter, Vitamin E, Honey, Kojic Acid, Tee Tree, Coconut Oil, Olive Oil, Grapeseed Oil, Hempseed Oil, Papaya Oil, Lemon Oil, Sweet Orange Oil, and Moringa Oil.
6oz