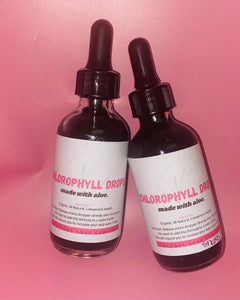 These drops can be taken directly from the bottle. Most drops have to be put in a bottle of water. We give you on the go convenience.
Directions: Squeeze the entire dropper on your tongue every morning. May use up to 3 droppers. This will require you to increase your daily water intake. 
Taste like mint & lemon
These drops are an internal deodorizer, eliminates bad breath, body odor, armpit odor, acne, gut health, vaginal odor, strengthens the immune system, energy boost, weight loss, and detoxifies the body. 

Keep from heated temperatures. Store in cool/ room temperature environment.
90 day shelf life.
Ingredients: Chlorophyll, Aloe, Lemon, Mint
2oz