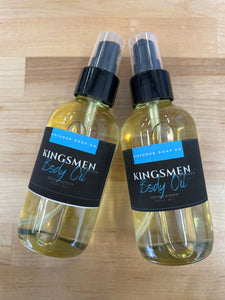 This is our first men's beard and body oil. 


We named it Kingsmen Intense because it's nothing like the bodywash. It actually has a highly fragrant masculine scent.
For body and beard ONLY. Do not put this oil on intimate areas.
When paired with our antibacterial Kingsmen soap bar or wash, your skin will definitely be rejuvenated and moisturized.
Ingredients: Sweet Almond oil, Sunflower oil, Avocado oil, Grapeseed oil, mahogany Shea oil, Amber Driftwood oil, and other ingredients.
4oz plastic bottle